Through Our Adsimu platform, we offer clients Multiple Advertising Spaces for :-
Videos, banners display,
Captive Portal Landing Page Branding
App installation
Surveys forms.
We offer real time statistics, advanced targeting options, & CPC based billing, and advanced campaign optimization.
WIFI SSID branded landing Page with advertiser's/ Brands name
Campaign management for Advertisers/ Brands.
End Month leads Campaign reports with Real-time Data/ Video views, clicks and impressions
Gain absolute control of your Advertising, get value on your Return on Ad Spend ROAS and Achieve a new level of success.
 Video is the most effective way to advertise, it's engaging and great for brand awareness and recognition end users on the phone love it.  – Engaging advertising that is Impossible for the end-user to miss!
Our video advertising, – highly targeting.
CTR: Average Click Through Rate
Allowing advertisers to deliver their message in front of the right eyeballs with maximum results.
We re-direct users' clicks to advertisers, and websites for Purchasing and browsing.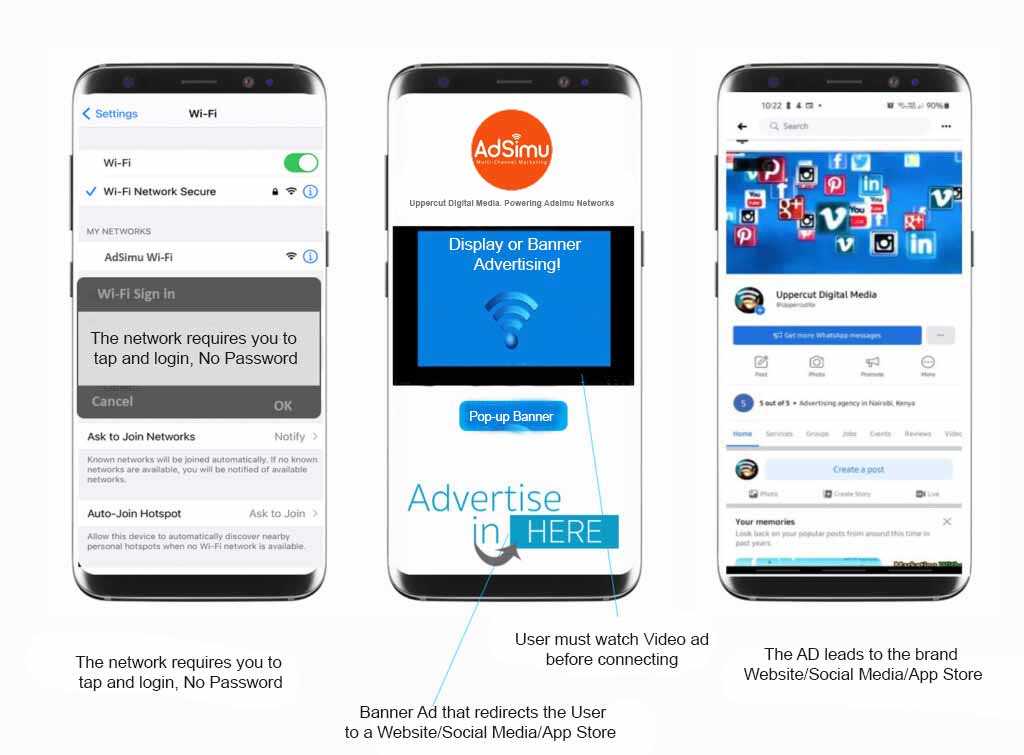 Pop-up Banner significantly increases the number of ad impressions. Creates brand awareness and recognition. Our platform supports all standard IAB banner sizes.
Interstitial Adverts can also be geo-targeted and set for specific time slots during the day.
We collect Real-time reliable data analytics for remarketing and retargeting using existing forms of social media.
Customers surveys and polls
Brand awareness.
CTR: Average Click Through Rate.
We provide App installs and drive traffic to the Play Store or IOS